Empathy is a wave that need never be stopped. If our children can catch this wave, from the ocean of tears that have been shed by Palestinian children, they might have a future in a more stable and saner world.
—Alice Walker, 2012,
introduction to exhibit catalogue,
A Child's View from Gaza
Montclair, N.J., April 16: A CHILD'S VIEW FROM GAZA, an exhibit of Palestinian children's art, will be on view on Sunday, April 16, from 11:00 a.m. to 2:30 p.m. at the Unitarian Universalist of Montclair, 67 Church Street, in Montclair, N.J.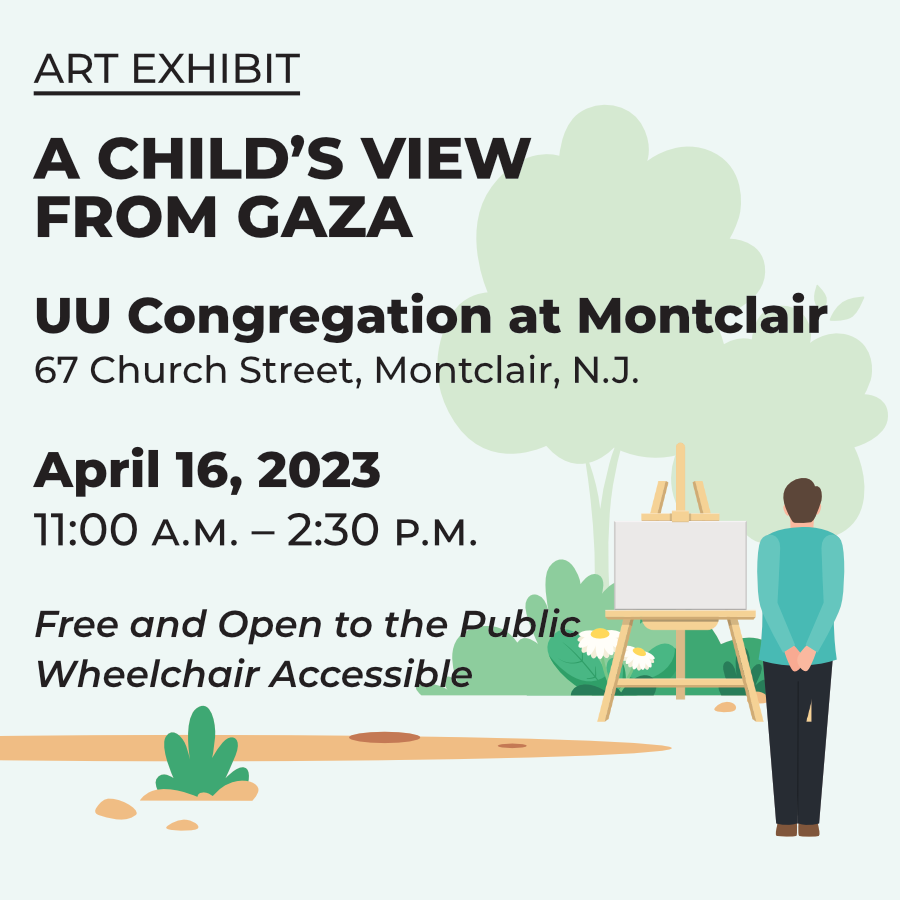 Palestinian children who survived the 2009 Israeli bombardment of Gaza created the drawings in the exhibit in art therapy classes. Art therapists designed the classes to help the children cope with the devastating psychological effects of the attacks that killed relatives and friends and demolished their homes and schools. The children's drawings remain timely: a tragic reminder that the children of Palestine continue to experience the horrors and trauma of war. As do children in other war-torn areas around the globe.
The Middle East Children's Alliance, an organization that supports community projects in Palestine, created the exhibit to show the devastating impact of war on its youngest victims and to raise public awareness of conditions in Palestine. The exhibit was first scheduled to be shown at the Museum of Children's Art in Oakland, California, in September 2011. Two weeks before the opening, pressure was put on the museum to cancel. In response, the organizers rented their own space, and a traveling exhibit was born. Since then, thousands of people have seen these censored pictures.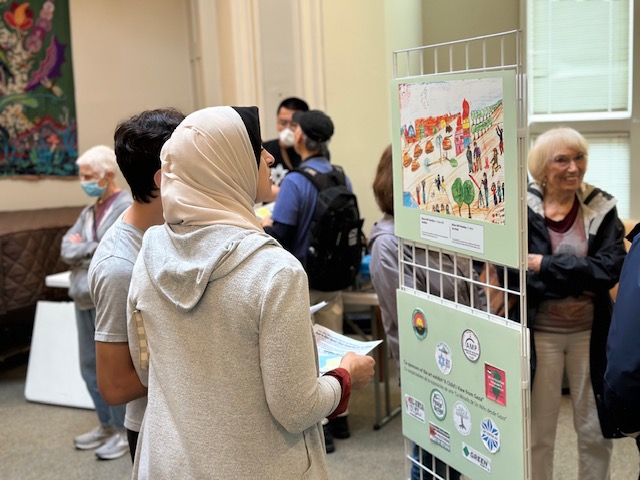 Center artwork by 4th-grade student Rafeeq Omar Isalami.
The upcoming art exhibit in Montclair has been made possible by the following organizations:
Sponsors
Jewish Voice for Peace-Northern NJ
People's Organization for Progress
CoSponsors
Al-Awda NY/NJ: The Palestine Right to Return Coalition
American Muslims for Palestine-NJ
Central Unitarian Church Social Action Team
Jewish Voice for Peace-Central NJ
Jews for Palestinian Right to Return
NJ Peace Action
North NJ DSA BDS & Palestinian Solidarity Working Group
Palestinian American Community Center
Veterans for Peace–Chapter 21
The exhibit is free & open to the public; it is wheelchair accessible.