An Open Letter to the Jewish Community of Northern New Jersey
From Jewish Voice for Peace of Northern New Jersey
Massive demonstrations have been taking place in Israel over the future of its judiciary amid rising authoritarianism. Democratic activism is most welcome, but overwhelmingly the protests do not focus on the more than half-century occupation that Israel has imposed on the Palestinian people or the continued second-class status of those Palestinians who are Israeli citizens. Still less do the demonstrations draw attention to the Nakba (the "catastrophe"), the ethnic cleansing that the indigenous Palestinian population experienced 75 years ago at the founding of the Israeli state.
There is a law in Israel that penalizes any entity that receives state funds (such as local authorities and public universities) from commemorating the tragedy of the Nakba. Unfortunately, it is not the law alone that prevents Israel's Jewish population from coming to terms with Israel's horrific treatment of Palestinians. There is a reluctance among a large majority of Israel's Jews to acknowledge the crimes of the past as well as the ongoing deeply discriminatory structures in Israel that Amnesty International, Human Rights Watch, and the Israeli human rights group B'Tselem, among others, have characterized as apartheid. When a few brave anti-occupation activists within the protests displayed Palestinian flags, police and other demonstrators often violently tore down the flags. But even without such intimidation, most Israelis choose not to hear Palestinian voices. If these voices are not heard, however, and uncomfortable truths not faced, then the fundamental issues cannot be addressed.
Sadly, there has been a similar failure to listen to pro-Palestinian voices within the Jewish community of northern New Jersey. Various organizations, including Jewish Voice for Peace (JVP), have urged support for the Palestinian-led campaign of boycott, divestment, and sanctions (BDS) against Israel as a nonviolent way to help oppressed Palestinians. In response, the State of New Jersey, with the backing of mainstream Jewish communal organizations, has enacted a law imposing financial penalties on those companies that support BDS (such as Ben & Jerry's ice cream). When our JVP chapter tried to place an ad in The Jersey Journal supporting BDS as a response to Israeli policies of apart­heid, the publisher intervened to reject our ad for not being "a good fit." (The ad did later appear in Montclair Local.)
"A Child's View from Gaza" Art Exhibit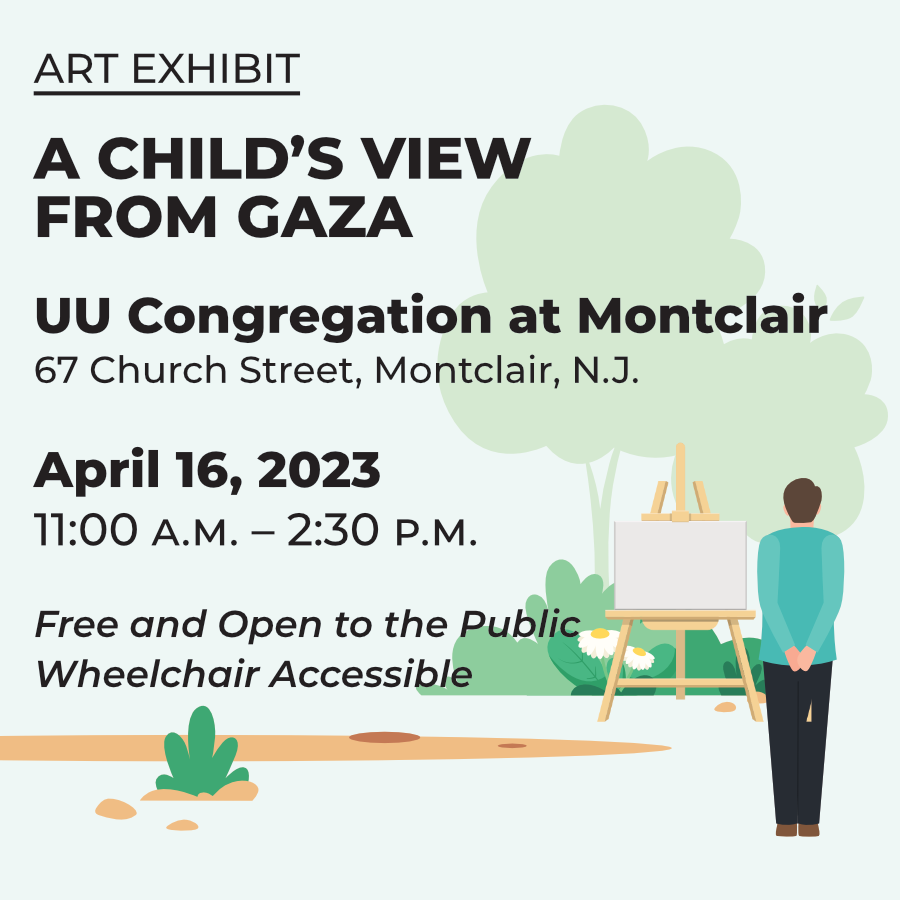 When our JVP chapter arranged for an art exhibit of drawings by traumatized children from Gaza who had lived under ferocious Israeli bombardment, scheduled to be shown at the First Congregational Church in Montclair, the program was cancelled by the church following a threat from a rabbi at a local synagogue of a "rupture" in relations. (The art show was later shown at Montclair's Unitarian Universalist Church and warmly greeted.)
Some ask whether our art exhibit was one-sided for not also depicting the traumas of Israeli children. Of course, war is horrible for all children, and we seek peace for all their sakes. But there is a lack of symmetry between occupier and occupied. All children, and all people, can thrive if the occupier stops trying to dominate the occupied. It is the perspective of the occupied that is so little appreciated in Israel and among many Jews in northern New Jersey as well.
We don't know whether the attempt to stifle our art show was because of not wanting to show the effects of the attacks on Gaza or because of opposition to its being sponsored by JVP—but, in a sense, it's not important because, we believe, opposition to us is really opposition to the fact that we promote Palestinian voices, advocate BDS as a nonviolent force for change, and call for cutting off U.S. military aid to Israel that enables the occupation.
More Discussion, not Silenced Voices
Gratifyingly, a growing number of Jews and others in the United States are coming to take a more critical view toward Israel, not blindly supporting everything it does or giving it a blank check to continue its occupation and its apartheid-like policies. However, there needs to be more open discussion of this among Jews. Laws, such as New Jersey's anti-BDS law, should not be used to shut down that discussion. Intimidation, such as that directed at a church wanting to host an art show, needs to end. Ads that advance the public conversation, such as the one we submitted to The Jersey Journal, should not be censored. And people need to open themselves to the voices of the oppressed. Efforts to silence the perspectives of Palestinians and Jewish advocates for Palestinian rights are wrong, whether in Israel/Palestine or in New Jersey.
It was a shanda—a shameful act—to try to stifle Palestinian voices. We welcome discussion and urge those who agree on its importance to engage with us and, even more importantly, directly with Palestinians, on how we can all promote peace and justice.