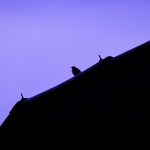 NEW YORK CITY—Out of one dream, another dream is born.
Yesterday, I heard someone from the West Bank say that denying Palestinians the vaccine is another act of genocide.
I thought of you, Dion, and the video you posted from federal prison last year, in Michigan.
Are you alive? I don't know what happened to you.
In a green knitted cap, a white mask, and your dreads, you took us around with that contraband phone, saying:
I fear retaliation for doing this. I'm putting my life on the line.
You pleaded for our help, showing us bunk bed after bunk bed, in close proximity, suits and ironed clothes hung neatly on hangers from any rim they could find.
I got a few little symptoms, but I don't know if I'm gonna make it—they just sittin' on us, waiting for us to die.
And the mattress, covered in clear plastic, where somebody had been really sick.
They ain't sprayed the bed off, or nothing. They just left it like that.
Dion, is that your real name? I have looked for you everywhere. Are you alive?
---
Article written by Zia Jaffrey.
This piece was originally published by The Nation on June 2, 2021, https://www.thenation.com/article/society/prison-covid-video/
It is part of a Kopkind/Nation collaborative series called "Scenes From a Pandemic".  It is also published on the Kopkind site.  https://kopkind.org/2021/06/07/scenes-from-a-pandemic-55/