Interfaith Communities for a Ceasefire • Newark • Nov. 13, 2023
With Central N.J. Jewish Voice for Peace, we led an interfaith rally outside Senator Booker's office calling him to support a ceasefire.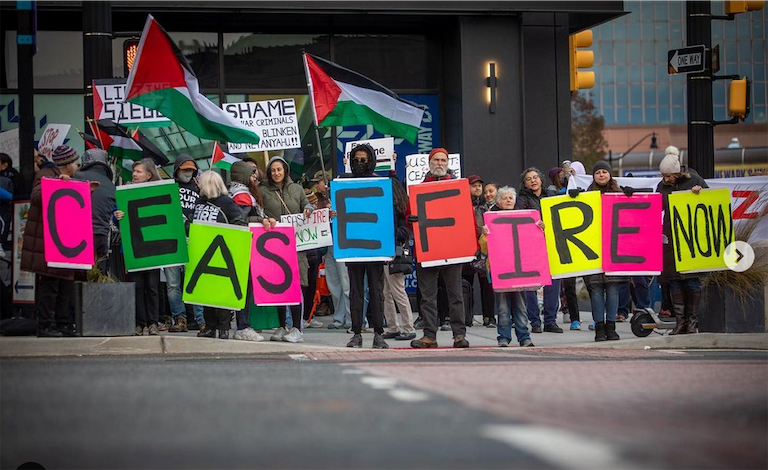 ---
NNJ JVP in Jersey City • October/November 2023
There have been three rallies in Jersey City: at Journal Square on Friday, October 20th, at Pedestrian Plaza on October 28th, and at City Hall on November 8th. A 4th event is being planned for November 21st.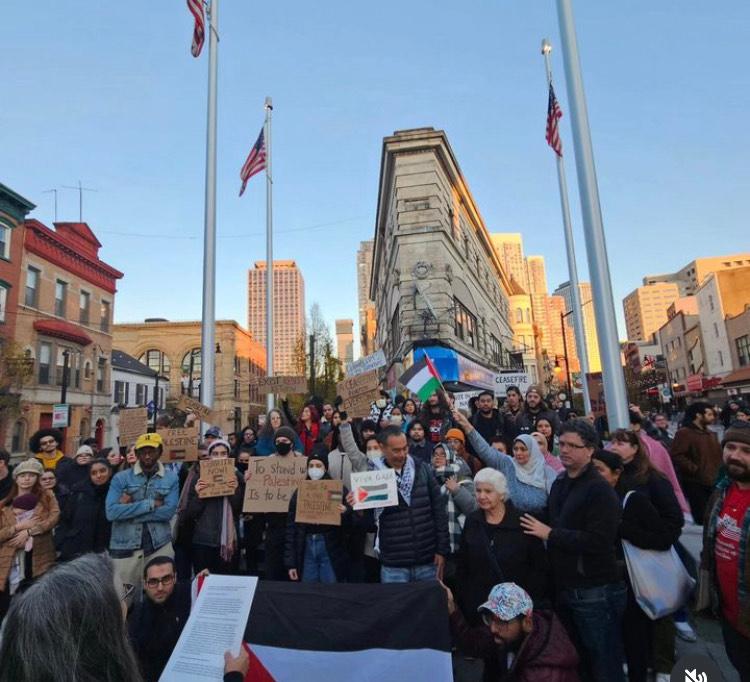 ---
March to End Fossil Fuels • N.Y.C. • Sept. 17, 2023
We joined a vastly diverse group of 75,000 marchers on Friday, September 17, 2023, at the March to End Fossil Fuels in New York City. Our flyer pointed out the connection between geopolitics and worsening climate change. Read more about why we joined the march here.

---
Marching in Montclair • July 4, 2023
About 8 members of Northern NJ JVP marched in the Fourth of July parade in Montclair, handing out literature on the latest israeli-settler violence in Palestine, info on the July film from Voices from the Holy Land, and the personal story of one Palestinian American and her family , both living and visiting Palestine. We were glad to get a good reception and gave out 400 flyers.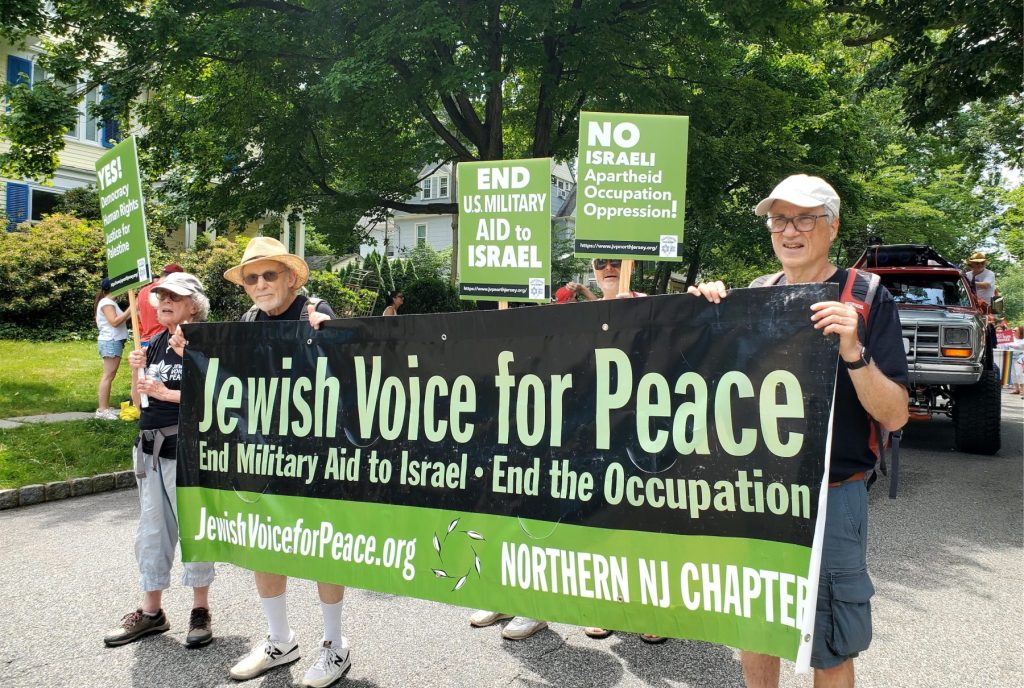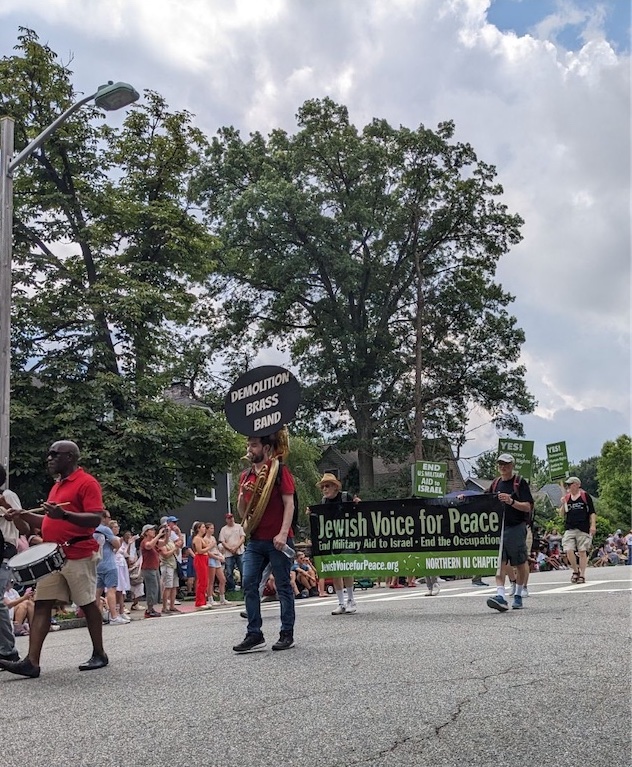 ---
Golden Rule Visits Liberty State Park • May 20, 2023
On Saturday, May 20th, 2023, the Veterans for Peace boat Golden Rule braved the wet weather to dock at Liberty State Park (actually, the rain really started when the event was well underway). The intrepid Solidarity Singers entertained, Kathy O'Leary of Pax Christie hosted, speakers were inspiring (including our own Joe Attamante), and we all left a bit more committed to a nuclear-free world.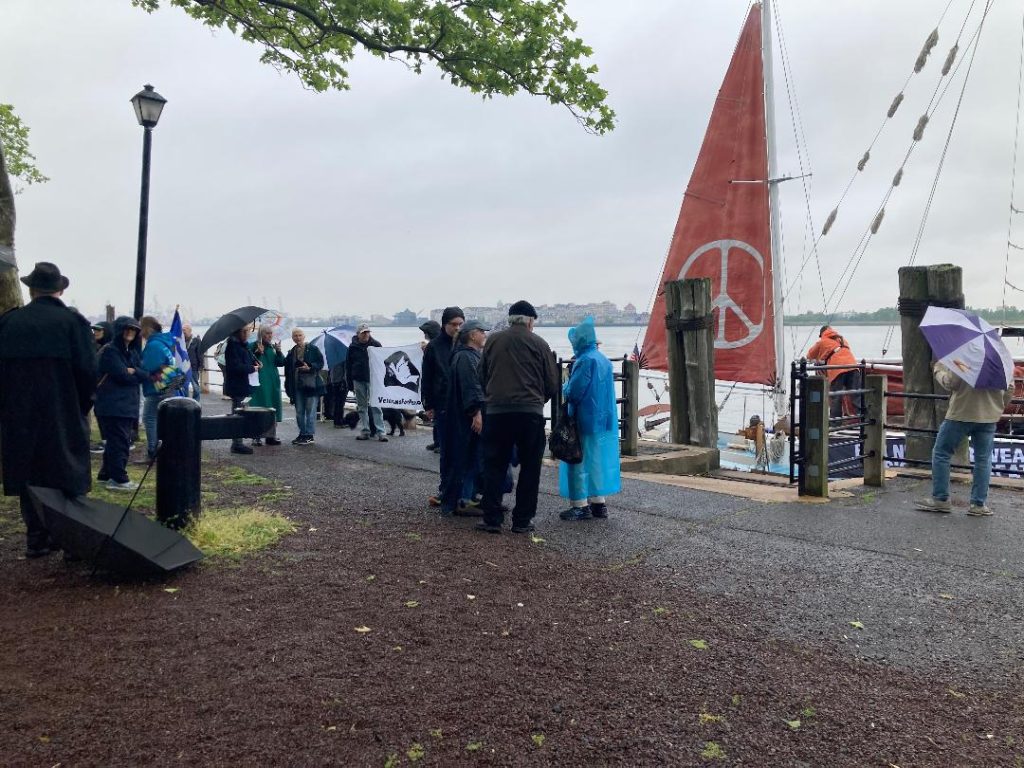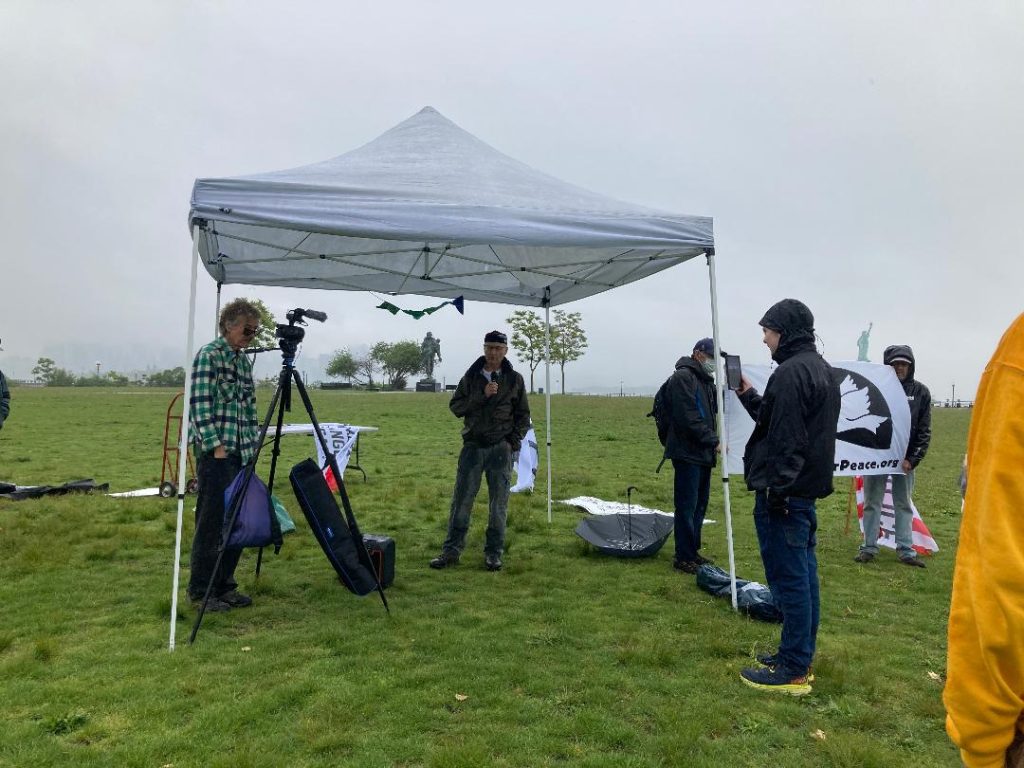 Top, Golden Rule docked at Liberty State Park with its banner supporting the Nuclear Weapons Ban Treaty; Left, activists gather alongside the boat before the rain; Right, Joe Attamante speaks as a member of host groups VfP Chapter 21 and Northern NJ JVP.
---
NNJ JVP Supports Ben & Jerry's
After reading Stephen Shalom & Jon Moscow's article in The Record (Oct. 4: https://njersy.co/3aCOjM7), we at NNJ JPV decided to put our principles into action—and have fun doing it! Five intrepid members decided to eat ice cream at the Ridgewood Ben & Jerry's on a recent Sunday, and bring flyers to explain to customers and passers-by why we support Ben & Jerry's principled decision not to sell their ice cream in illegal settlements—and why we were opposed to the N.J. law passed in 2016, sponsored by now-retiring senator Loretta Weinberg, that led the N.J. Pension Fund to announce divestment of its Unilever shares.
---
Block the Boat Elizabeth, N.J. • July 25, 2021
See article at this page.
Block the Boat Elizabeth, N.J. • June 6, 2021
Thanks to Terri Kay for these photos from the Block the Boat rally on Sunday, June 6, 2021, at the port of Elizabeth.