Date/Time
Date(s) - 06/13/2023
7:00 pm - 9:15 pm
Categories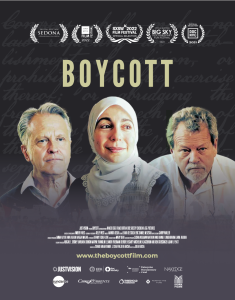 Join us to watch the film and then participate in a facilitated discussion. New Jersey is one of 34 states that has passed antiboycott legislation, which led to the state's pension divestment from Unilever when Ben & Jerry's objected to their product being sold in the Occupied Territories; how do we respond?
From the press kit:
When a news publisher in Arkansas, an attorney in Arizona, and a speech therapist in Texas are told they must choose between their jobs and their political beliefs, they launch legal battles that expose an attack on freedom of speech across 34 states in America.
Boycott traces the impact of state legislation designed to penalize individuals and companies that choose to boycott Israel due to its human rights record. A legal thriller with "accidental plaintiffs" at the center of the story, Boycott is a bracing look at the far-reaching implications of anti-boycott legislation and an inspiring tale of everyday Americans standing up to protect our rights in an age of shifting politics and threats to freedom of speech.
Meera Shah from Palestine Legal and Kate Schwartz, Just Vision 's Public Engagement Manager, will lead our discussion after the film, with Meera talking about BDS here in NJ.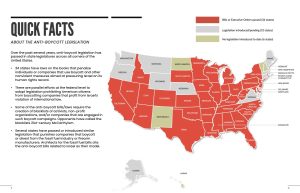 Bookings
Bookings are closed for this event.