Date/Time
Date(s) - 04/16/2023
3:00 pm - 4:00 pm
Categories
We are cosponsoring this film discussion—watch the film between now and Sunday, April 116, and then join the discussion on Zoom.  Here is information from the Voices from the Holy Land's flyer:
Watch the film for free at your convenience; Join the Q&A Discussion
"Support for Israel" is often called the third rail of U.S. politics.  Any elected official daring to criticize Israel in any way will get "burned".  Why is that?  What exactly is the Israel Lobby, and what is the extent of its power?
When Al Jazeera produced a 4-part documentary series on this lobbying "industry", intense pressure forced it to cancel the broadcast. Then The Electronic Intifada posted a leaked copy.  THE LOBBY-USA, Episode 4, follows an undercover journalist posing as a pro-Israel volunteer who gets unprecedented access to the operations of Israel Lobby groups in Washington, D.C.  We watch as Israel's covert campaign strives to influence partisan politics, campus life, major network news reporting, and social media in America. This will be first in a series of Voices from the Holy Land salons on the theme "Marketing the Israeli Occupation".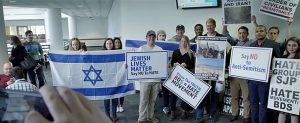 Watch the trailer here.
Grant F. Smith is Director of the Institute for Research: Middle Eastern Policy (IRmep), a nonprofit organization in Washington, DC. Grant has investigated financial services and global telecommunications industries, worked in 22 countries assessing the impact of regulatory and trade regime changes, and managed multi-country research teams. His tenth book about the Israeli Lobby is How Israel Made AIPAC (2022), which is also available as a free podcast. Grant has a BA a in International Relations from the University of Minnesota and a MIM (Master of International Management) from the University of St. Thomas in St. Paul, Minnesota.
Edward Ahmed Mitchell is National Deputy Director of the Council on American Islamic Relations (CAIR) and was previously the Executive Director of CAIR-Georgia.  Earlier, Edward practiced law as a criminal prosecutor for the City of Atlanta and worked as a freelance journalist for The Atlanta Journal-Constitution. He also currently serves as president of the National Association of Muslim Lawyers (NAML). Edward is a graduate of Morehouse College and received his law degree from Georgetown University Law Center.
Rebecca Vilkomerson is an independent consultant and author of the report Funding Freedom: Philanthropy and the Palestinian Freedom Movement (2022). She was the Executive Director of Jewish Voice for Peace (2009-2019) during which time she led the organization to endorse BDS and anti-Zionism. She has been widely published in numerous outlets, including The Los Angeles Times, The Washington Post, Haaretz and The Nation. In 2017, she was named as one of The Jerusalem Post's 50 most influential Jewish leaders worldwide. Rebecca lived in Israel with her family from 2006-2009 and now lives in Brooklyn. She holds an M.A. from Johns Hopkins University, Institute for Policy Studies.
Michael Spath, Ph.D. (Moderator) is founding Executive Director of the Indiana Center for Middle East Peace, based in Fort Wayne, Indiana. He is a member of the United Church of Christ-Palestine Israel Network, and co-chair of the Israeli Committee Against House Demolitions-USA. Michael has led over 15 solidarity tours to Palestine and Israel as well as study tours to Turkey, Jordan, Egypt, and Greece.
SUPPORTER ORGANIZATIONS: Israel/Palestine Mission Network of the Presbyterian Church (U.S.A.) + Episcopal Peace Fellowship-Palestine Israel Network + Churches for Middle East Peace + Palestinian Christian Alliance for Peace + Quaker Palestine Israel + Network + Unitarian Universalist for Justice in the Middle East + Indiana Center for Middle East Peace + Disciples Palestine-Israel Network + Virginia Coalition for + Human Rights + Mennonite Palestine Israel Network + Friends of Sabeel North America + Center for Jewish Nonviolence + United Church of Christ – Palestine Israel Network + Israeli Committee Against House Demolitions-USA + Northern New Jersey Jewish Voice for Peace + Pace e Bene Nonviolence Service + Kairos Puget Sound Coalition +  Pax Christi USA