Date/Time
Date(s) - 10/19/2022
1:00 pm - 2:00 pm
Categories
Important Web seminar!  Palestine Legal Advocacy Manager Lisa Assi will speak about the International Holocaust Remembrance Alliance (IHRA) definition of antisemitism.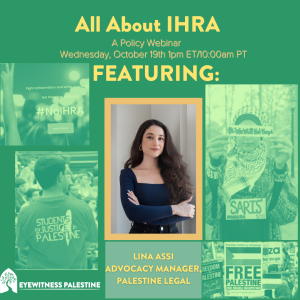 From the notice forwarded by Eyewitness Palestine:
As we know all too well, one of the ongoing strategies that Zionist organizations are using to censor Palestine organizing and activism is to pass definitions of antisemitism that falsely equate criticism of Israel with racism.

Join us on the 19th to hear all about the International Holocaust Remembrance Alliance, or IHRA definition of antisemitism, how it's been implemented so far, and what YOU can do to take action against this latest attempt at repressing the movement for Palestinian freedom and equality. Read more about the IHRA definition of antisemitism here.
Lina Assi is a Palestinian community organizer with the Palestinian Youth Movement. Since 2014, Lina has been organizing for the Palestine movement both in Canada and the US. In 2014, she helped to pass a historic BDS resolution at McMaster University that mobilized over 600 students.
This was an Eyewitness Palestine event.