Date/Time
Date(s) - 02/09/2021
9:00 pm
Categories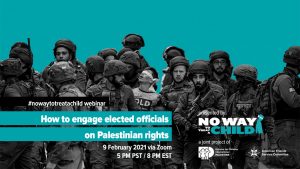 Defense for Children International—Palestine (DfCI-P) sends this invitation:
Please join the #nowaytotreatachild campaign for our webinar next week! On February 9 at 8 p.m. ET, we will share updates about Palestinian children in the Israeli military detention system, including Amal Nakhleh, the 17-year-old whom Israeli authorities just ordered to serve 6 months in administrative detention. Amal has a condition called myasthenia gravis, a rare chronic autoimmune, neuromuscular disease that causes muscle weakness, including in muscles used for breathing and swallowing.
We'll also share best practices for engaging with elected officials, including tips on setting up meetings and how to prepare for them. We hope to see you there!
The new year presents new opportunities to advocate for Palestinian children who endured grave violations of their rights at the hands of Israeli forces throughout 2020. You can read Defense for Children International – Palestine's year-in-review and other recent news from Palestine to learn what we're up against.
For this webinar, DfCI-̦ will be using the Zoom platform. Additional instructions and details for joining the webinar will be shared by email with individuals that have registered.
To register, use this link sent by DfCI-P: https://nwttac.dci-palestine.org/nwttac_webinar_20210209?utm_campaign=february_webinar_inv&utm_medium=email&utm_source=dcipalestine Further information will come from them, not from us! We hope to see you there!