Date/Time
Date(s) - 05/04/2021
3:00 pm - 4:00 pm
Categories
We are pleased to cosponsor this event with The Columbus Free Press and numerous other JVP chapters.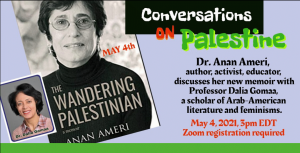 Please join us on May 4th, when author, activist, and educator Dr. Anan Ameri will sit down with Cairo University's Professor Dalia Gomaa, a scholar of Arab-American literature and feminisms. The two will discuss Ameri's new memoir, The Wandering Palestinian, with themes ranging from the diversity within the Palestinian community to how immigrants experience the American dream; from transnational feminism to activism for Palestine in America.
"Anan Ameri's recently released memoir "The Wandering Palestinian" is beautifully written in the tradition of Arab story telling. Its humorous and poignant vignettes travel the reader to Beirut, Detroit, Washington DC, Cambridge, Massachusetts, and Jerusalem. It successfully interweaves the forty-year personal narrative of a free spirited Arab woman who arrives in the USA in 1974, with the larger issues of migration, racism, sexism, and institution building."

Jabara, Abdeen, Mondoweiss, Dec. 17, 2020.
Registration link for this event is obsolete and was removed 28 August 2021.
From the Central Ohio chapter of JVP: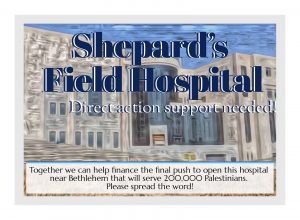 Dating back to the earliest days of Jewish Voice for Peace as a stand-alone Bay Area chapter organization, there is a long history of creating direct-action fundraisers for our Palestinian brothers and sisters. With this tradition in mind, our coalition of JVP chapters and allied organizations will be raising funds for the expansion of Shepherd's Field Hospital near Bethlehem.  The GoFundMe campaign is closed as of 28 August 2021, likely earlier.  Thanks to all those who helped raise $1,338.