Date/Time
Date(s) - 06/06/2021
6:30 am - 7:30 am
Categories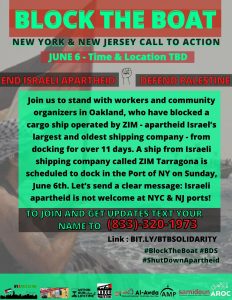 We are invited to join this rally in solidarity with Oakland. Expected start time is 6:30 a.m.—you'll probably need to take some form of taxi service to get there—but things change rapidly; text 833/320.1973 for the latest information or go to https://bit.ly/btbsolidarity for information on the week of action in opposition to Israeli apartheid-profiteering company ZIM from June 2nd through June 9th. Oakland has for 11 days blocked a ZIM ship from docking—let ZIM know that they are not welcome in our port, either.
This information just in from Oakland:
Several hundred Bay Area residents successfully mobilized to the Port of Oakland to participate in #BlockTheBoat, a campaign led by the Arab Resource & Organizing Center (AROC) to prevent Israeli owned and operated cargo ships from being worked and unloaded in the Bay Area. AROC and the broader community claimed victory after four hours* of picketing when dockworkers with the International Longshore and Warehouse Union (ILWU) Local 10 honored the picket and did not unload the Volans, a vessel operated by Israeli shipping company ZIM. The terminal operated by TraPac is shut down until the evening shifts. The Volans is still docked with all its Oakland-bound cargo on board.
*morning of June 4th