Date/Time
Date(s) - 11/20/2023
12:00 pm - 3:00 pm
Location
N.J. State House
Categories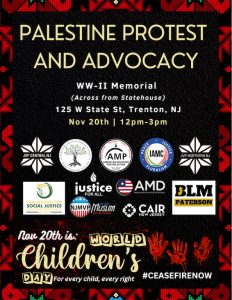 Monday, Nov 20th is World Children's Day and the theme for 2023 is For every child, every right.

5,000 children have been killed in Gaza since October 7th. Children in Gaza don't have the right to life, to health, to education, to be protected from violence – what World Children's Day celebrates and promotes.

Join us in front of the statehouse (WW-II Memorial across the street) Monday, Nov 20th from 12 to 3 to demand a #CEASEFIRENOW and advocate for support on the ceasefire resolution being presented by Assemblywoman Sadaf Jaffer.
"The date 20 November marks the day on which the Assembly adopted the Declaration of the Rights of the Child, in 1959, and the Convention on the Rights of the Child, in 1989. The Convention, which is the most widely ratified international human rights treaty, sets out a number of children's rights including the right to life, to health, to education and to play, as well as the right to family life, to be protected from violence, to not be discriminated, and to have their views heard. On the basis of the Convention and joint efforts by all the countries and regions, let us promote and celebrate children's right on the World Children's Day, and continuously build up a friendly environment for children in the world through dialogue and actions." – https://www.un.org/en/observances/world-childrens-day/background
Sponsoring organizations are Central NJ JVP, Palestinian American Cultural Center, American Muslims for Palestine N.J., IAMC, Northern NJ JVP, ICNA Council for Social Justice, New Jersey Muslim Voice for Palestine, American Muslims for Democracy, CAIR New Jersey, and Black Lives Matter Paterson.