Date/Time
Date(s) - 02/12/2023
3:00 pm - 4:00 pm
Categories
We are supporting this film discussion—watch the film at your convenience, and then join the discussion on Zoom.  Here is information from the Voices from the Holy Land's flyer:
Millions of American Evangelicals are praying for the State of Israel. Among them are a dynasty of Kentucky pastors and their Evangelical congregants in an impoverished coal mining town. They donate sacrificially to Israel's foremost philanthropic organization, the International Fellowship of Christians and Jews, because they fervently believe the Jews are crucial to Jesus' return. This film traces this unusual relationship, from rural Kentucky to the halls of government in Washington, through the moving of the American Embassy in Jerusalem and to plans for annexing the West-Bank. It exposes a stunning backstory of the Trump and Netanyahu administrations, where financial, political, and messianic motivations intersect with the apocalyptic worldview that is insistently reshaping American foreign policy toward Israel.
Watch the film for free at your convenience; Join the Q&A Discussion
Mark Braverman: Author, Executive Director of Kairos USA
Maya Zinshtein: Israeli Filmmaker and investigative journalist
Bruce Fisk: Author, Senior Research Fellow, Network of Evangelicals for the Middle East
Don Wagner: Author, Presbyterian Minister, former National Program Director at FOSNA
Lara Friedman (moderator):  President of Foundation for Middle East Peace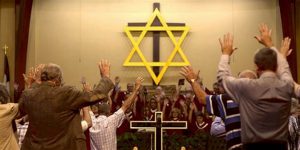 After registering, view the film for free at your convenience, and then join the discussion on February 12th.
Mark Braverman is the Executive Director of Kairos USA, an ecumenical organization of churches founded in response to the Kairos call of the Palestinian Christians. Mark is a Jewish American with deep family roots in the Holy Land. He serves on the Advisory Board of Friends of Sabeel North America and is the author of Fatal Embrace: Christians, Jews, and the Search for Peace in the Holy Land and A Wall in Jerusalem: Hope, Healing, and the Struggle for Justice in Israel and Palestine.
Maya Zinshtein is an Israeli investigative journalist, working in leading Israeli print and broadcast outlets, and a documentary filmmaker, producing five feature documentaries, including 'Til Kingdom Come (2020), about Christian Zionists in the United States, and Forever Pure (2016), about the very first two Muslim players on Beitar Jerusalem, an Israeli soccer team known for having a predominantly anti-Muslim, anti-Arab fan base.
Bruce Fisk taught religious studies at Westmont College in California for almost 20 years and led many study-abroad programs to the Middle East. As Senior Research Fellow at the Network of Evangelicals for the iS Middle East, he is responsible for creating Israel/Palestine dialogue curriculum for evangelical and academic groups and building relationships with evangelical academic institutions. Bruce is author of Canaanite Genocide and Palestinian Nakba in Conversation (2019), Ascent to Jerusalem: Pilgrimage, Politics and Peacemaking in the Holy Land (forthcoming), and more.
Don Wagner recently retired as the National Program Director for Friends of Sabeel-North America. He is a retired Presbyterian clergyman and Professor of Middle East Studies and Director of the Center for Middle Eastern Studies at North Park University in Chicago. Don is an activist and author of 5 books on Palestinian human rights, Christians in the Middle East, and Christian Zionism. His memoir, Glory to God in the Lowest: Journeys to an Unholy Land tells his journey from Christian Zionism and conservative politics to antiracism, liberation theology, and advocacy for justice in Palestine.
Lara Friedman (moderator) is the President of the Foundation for Middle East Peace (FMEP). She is a leading authority on foreign policy particular expertise on Israel/Palestine and the role of the U.S. Congress. Lara is a Contributing Writer at Jewish Currents and a nonresident fellow at the U.S./Middle East Project. She has served as Director of Policy and Government Relations at Americans for Peace Now, and as a U.S. Foreign Service Officer in Jerusalem, Washington, Tunis, and Beirut.
SUPPORTER Organizations: Israel/Palestine Mission Network of the Presbyterian Church (U.S.A.) • Palestinian Christian Alliance for Peace +• Quaker Palestine Israel Network • Unitarian Universalists for Justice in the Middle East • Indiana Center for Middle East Peace • Disciples Palestine-Israel Network • Virginia Coalition for Human Rights • Mennonite Palestine Israel Network • Friends of Sabeel North America • Center for Jewish Nonviolence • Israeli Committee Against House Demolitions-USA • Northern New Jersey Jewish Voice for Peace • United Church of Christ Palestine Israel Network • Pace e Bene Nonviolence Service • Kairos Puget Sound Coalition • Pax Christi USA