Date/Time
Date(s) - 07/16/2023
3:00 pm - 4:00 pm
Categories
Remember those "little blue boxes" used by Jewish and non-Jewish children to donate coins to plant a tree in Israel? What happened to those trees? Were these trees used to hide destroyed Palestinian villages?
We are supporting this film screening; here is the description from Voices from the Holy Land:
Using donations collected by children via "little blue boxes", the Jewish. National Fund has planted more than. 250 million trees in Israel/Palestine. Ostensibly to "make the desert bloom," the planting has radically altered the land's biodiversity.

My Tree follows filmmaker Jason Sherman's journey to find the tree planted in his name on the occasion of his bar mitzvah. When he discovers that "his" tree is in a forest covering up a Palestinian village destroyed in 1967—one of many forests hiding scores of destroyed villages—he seeks to learn the motivations behind JNF's tree-planting enterprise and to understand his own culpability.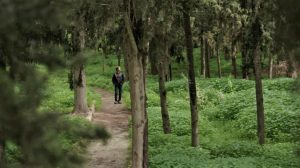 All were invited to watch the film for free at their convenience and then join the Q&A Discussion with
Jason Sherman: Jewish Canadian playwright, screenwriter, and filmmaker
Seth Morrison: Treasurer, Jewish Voice for Peace Action, publicly resigned from Washington, D.C. Board of Jewish National Fund
Mazin Qumsiyeh: author, founder and director of the Palestine Museum of Natural History (PMNH) and the Palestine Institute for Biodiversity and Sustainability (PIBS) at Bethlehem University
Iymen Chehade (moderator): Professor of Middle Eastern History, Columbia College; founder, Uprising Theater
Watch the Trailer: Tinyurl.com/VFHL-MyTreeTrailer.
Jason Sherman is a playwright and screenwriter, with a multi-award-winning body of work for stage and screen. Among his many plays are Three in the Back, Two in the Head, which received the Governor General's Award for Drama; and a trilogy of plays about the connections between Israel, Palestine, and diasporic Jews: The League of Nathans, Reading Hebron, and United Nathans. Jason also wrote the docudrama We Were Children, about Canada's residential schools system. My Tree won the 2023 Canadian Writers Guild Award for Best Documentary and was nominated for Best Documentary at the 2022 Canadian Screen Awards.
Seth Morrison has held leadership posts in many local, regional, and national nonprofit and political organizations. He's the Immediate Past Chair of Jewish Voice for Peace and he serves as Treasurer for Jewish Voice for Peace Action. Other advocacy issues he has been active in include HIV/AIDS and LGBTQ advocacy, environment, health care and local progressive politics. Morrison publicly resigned from the Washington, D.C. JNF board when he learned that the Jewish National Fund/Keen Kayemeth Lelsrael was covertly stealing Palestinian homes in Occupied East Jerusalem and giving them to Israeli settlers.
Mazin Qumsiyeh
is founder and director of the Palestine Museum of Natural History and the Palestine Institute for Biodiversity and Sustainability (PIBS) at Bethlehem University, where he teaches. He taught at Yale and Duke Universities and returned to Palestine in 2008. The author of more than 150 scientific papers on topics ranging from cultural heritage to biodiversity, he is best known for his books on the Israeli/Palestinian conflict: Sharing the Land of Canaan and Popular Resistance in Palestine. Qumsiyeh serves on the board of a number of Palestinian youth and service organizations, such as Al-Rowwad Children Theater and Siraj Center.
Iymen Chehade (moderator) is a professor of Middle Eastern history at Columbia College Chicago and the School of the Art Institute of Chicago. He is active on public policy and is a staunch advocate for the human rights of Palestinian and other peoples. He is the founder of the nonprofit Uprising Theater, which uses art as a tool to link the Palestinian movement for liberation with movements of other marginalized communities. Chehade has served as a foreign policy adviser and in 2022 ran for Congress in Illinois' 3rd Congressional District; in his electoral campaign he highlighted the apartheid system Israel operates against the Palestinian people.
SUPPORTER Organizations: Israel/Palestine Mission Network of the Presbyterian Church (U.S.A.) + Palestinian Christian Alliance for Peace + Quaker Palestine–Israel Network + Unitarian Universalists for Justice in the Middle East + Indiana Center for Middle East Peace + Disciples Palestine-Israel Network + Virginia Coalition for Human Rights + Mennonite Palestine Israel Network + Friends of Sabeel North America + Center for Jewish Nonviolence + Episcopal Peace Fellowship–Palestine Israel Network + Northern New Jersey Jewish Voice for Peace +
In addition, we received this information along with the materials for the discussion of My Tree: